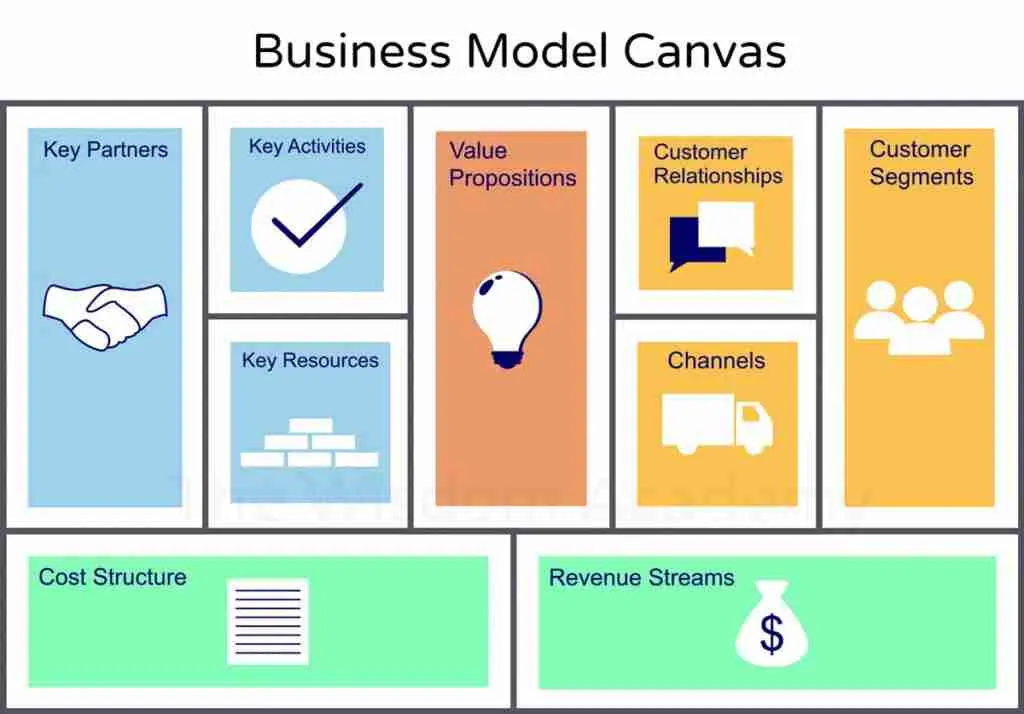 Businesses are multi-faceted structures embracing a variety of levels. While driven by people at all levels, organizations are primarily what they do. In other words, each type of organization is dedicated to a certain type of activity.
Key Activities make a whole block in a Business Model Canvas describing the main processes, functions, and tasks a company should undertake to develop, stay competitive, and deliver its value proposition.
Normally, these are actions that are an absolute must for successful company operations and growth. So, let's take a look at how those tasks vary across organizations and how to determine Key Activities for a specific Business Model Canvas to make it a success.
The Place of Key Activities in a Business Model Canvas
This module is the seventh out of nine essential elements that make up a Business Model Canvas. Standing in between Key Resources and Key Partners, this module is on the execution side of the template and is a part of the value proposition implementation rather than value creation.
By identifying and prioritizing the most important tasks, organizations can better focus their resources and optimize their operations to achieve both big and small goals. The Key Activities block is crucial for understanding how a venture works and what makes it unique in its niche.
As such, this component is critical for any business model.
To be more specific, these are the prime tasks an organization should complete to match its value proposition, reach appropriate customer segments, establish long-lasting customer relationships, and generate revenue streams. As such, this module is among the core blocks many other Business Model components rely on.
Identifying the Key Activities
The main aspect of this module is the value organizations add to the market via their operations. Value analysis and assessment allow for estimating how effective the key activities are as well as for a better understanding of what stands behind company failures and success.
Since the block is directly linked to a number of other modules, to identify your key activities, think about the answers to the following questions:
What are the key actions to create a product or service?
What are the channels to distribute that product or service?
What are the core activity types for building and maintaining customer relationships?
What jobs will ensure revenue streams?
Notably, the scale of the enterprise also matters in the choice of key activities. Thus, smaller companies and startup projects will have simple lists of actions and tasks.
And big organizations with complex structures embracing multiple processes and a number of affiliates will call for a higher degree of abstraction when determining their key tasks.
While the algorithm for defining key activities stays the same throughout the business cycle, it's important to approach it from the right angle to work out the scheme that will align with the current development stage of your organization.
Key Activities Classification
A set of core activities that will work for each business model type is different and greatly dependent on the industry or niche a company operates in, as well as on its long-term development goals and overall entrepreneurial environment conditions.
Thus, organizations can change major jobs to respond to changing business tendencies, embrace emerging trends, catch up with new opportunities, and retain or increase the value they offer.
With a plethora of tasks and processes involved in different types of enterprises and organizations, the key activities can be broadly grouped into four major categories described below.
Production
It's by far the most comprehensive and complex category that covers product development, manufacturing, and delivery. Production is peculiar to manufacturers and companies that create and sell products. Good examples of production-based business models among global brands are Nestle, Tesla, Apple, and SpaceX.
The key activities typical for this category include:
Design and selection embrace choosing and designing both products and production processes, including technology, machinery, and systems to be used. At this stage, production capacities are also to be determined and planned to satisfy the expected demand to avoid inventory problems;
Planning is aimed at establishing a healthy and consistent production process covering pre-scheduled tasks and actions;
Control involves the management and monitoring of all production processes and stages to detect any deviations and correct them. Besides, it covers quality control to ensure a continuously high quality of products delivered. And regular inventory control is required to avoid product shortages or overstocking;
Delivery refers to product handling, shipping, transportation, and distribution to end users;
Customer feedback is critical for production-driven companies to introduce any product modifications or refinements to increase value and match customer needs to a tee.
Today, many organizations tend to outsource production jobs to optimize their costs and embrace multiple product types. In this case, outsourcing will be the key activity of the company.
Problem-Solving
This activity is characteristic of organizations that come up with exclusive solutions for certain problems, issues, situations, or challenges. Most often, these are companies providing different types of services. Hospitals, lawyers, financial and tax consultants, and beauty salons are good examples in this area.
Problem-solving business models rely on works that bring a competitive advantage. Besides, those tasks are usually backed by consistent learning and training. So, the key activities to fit this category are as follows:
Research to identify market demands and actual needs that will help companies deliver solutions that ignite interest and promise positive change;
Project management to coordinate and finetune connected processes. This will boost productivity and minimize problems that might impact the value of the services provided;
Expert advice to improve project planning, balance management efforts, prepare effective operational teams, and develop optimal risk control strategies. All of this is meant to prevent service disruptions;
Recruitment to find, connect with, and employ experienced professionals;
Customer service to communicate with clients to build relationships of trust.
Platform/Network Building
Building platforms and networks are about creating a place for people to interact, communicate, transact, and make deals.
The key activities here will be built around platform maintenance and optimization to keep them serviceable, functional, and in line with the latest updates, upgrades, innovations, and trends, not to mention their matching the market demand and target audience needs.
The most vivid examples of platform-based business models are Google and Amazon.
The key activities that help create value in this segment embrace the following:
Cloud computing to enable off-site data management, easy remote work, and optimize the use of digital resources;
Financing to ensure organizational development and growth and directly impact the market trends;
Research and development to ensure access to up-to-date advancements and technology and make the platform or network match the current industry standards and customer interests;
Delivering fundamental expertise to get participants interested, set up communities, and add value;
Consistent platform management through client service and technical support;
Customer management to administer and control services and regulate customer relationships;
Quality control to make sure platform security and service quality match the standards applied.
It's worth noting that this category is not limited to the above-mentioned works. There are many other key activities that fall under this category, given the number of network aspects. We've mentioned the most common ones.
Sales and Marketing
This category is applicable to a certain extent to nearly any organization, be it a private or governmental structure, a profit or non-profit company. The key activities here are the following:
Recruiting to employ specialists capable of selling different products and services;
Promoting to reach and engage the target audience;
Customer search to determine and hunt for new customers;
Maintaining to foster and nurture the existing customer base;
Collaborating to establish the right connections via communication and further build beneficial relationships.
To Sum Up
The Key Activities module is a core component of the Business Model Canvas crucial for the value proposition delivery, sustaining great customer relationships, properly aligning distribution channels, and generating revenue streams.
As such, the module is not something you can tailor in a set-and-forget manner. It requires consistent revision and adjustment to stay on top of business changes.